Take a stroll and see the myriad of flowers
An array of flowers bloom in Kyoto Gyoen. In spring, these include the blooms of cherry trees, magnolias, peach trees, and camellias. In summer, Japanese stewartia (Stewartia pseudocamellia), Pollia japonica, and crepe myrtle (Lagerstroemia indica) blossom. In autumn, Polygonum thunbergii, and in winter, plum trees, wintersweets (Chimonanthus praecox), and sasanqua camellias and other flowers display their colors. Many people visit the garden to see the blooming cherry trees, plum trees, and peach trees in particular.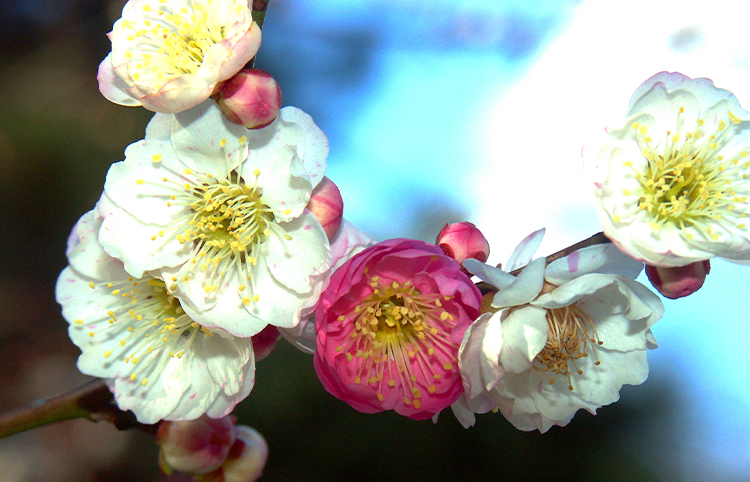 Plum grove
About 200 plum trees, both red and white blossoms, are planted in the plum grove. Red and white plum blossoms create a splendid sight and release a fresh wafting scent. Among the plum trees is a rare species called "Omoinomama" (meaning literally "as you like") that blooms in different shades from a single tree. The best time to see the flowers is from mid-February in the early spring when it is still cold, to around mid-March.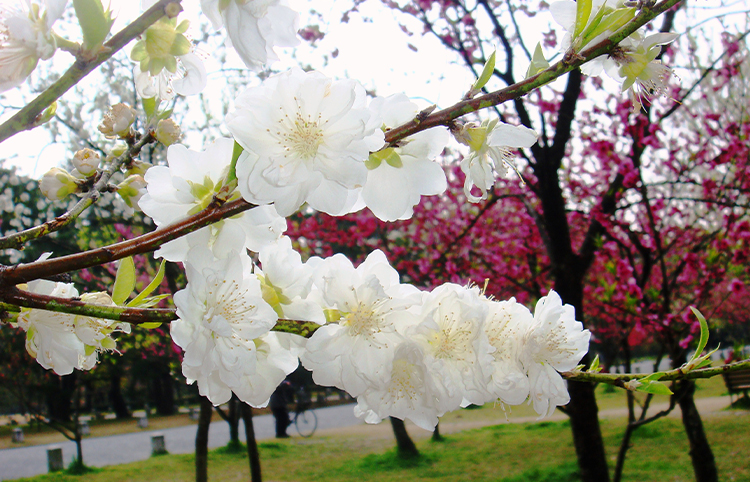 Peach grove
The peach grove is located on the south side if you enter Kyoto Gyoen from Hamaguri Gomon Gate, which is famous due to the Kinmon Incident that took place there on August 20, 1864. There are about 70 peach trees, that flower between the plum and cherry blossom seasons, creating a unique pleasant atmosphere that is characteristic of spring. It is rare to be able to view many peach trees in one place. The best time to see the flowers is from around mid-March after the plum trees blossom, to around early April.