Kyoto Gyoen National Garden incorporates universal design to allow accessible use by people of all needs.
Map Indicating Universally Designed Toilets and Facilities
Please refer to the map icons to locate universally designed toilets and facilities throughout Kyoto Gyoen.
All toilets and facilities are locked at night, except for the multipurpose restrooms near the Seiwain Gomon Gate and north of the Nakadachiuri Rest House.
There is no hot water in the ostomate accessible toilet at the Sakaimachi Rest House.
Barrier-Free Access Routes
See below for the route to Kyoto Gyoen from the nearest subway stations' elevator exits.
The Nakadachiuri Parking Lot has five "Kyoto Omoiyari Parking" spaces near the entrance gate for people who have difficulty walking (the spaces are also available to visitors without Omoiyari parking permits).

Two power assist wheelchairs and one wheelchair with balloon tires can be rented for free at the Nakadachiuri Rest House to facilitate mobility within the garden. To rent a wheelchair, visitors are asked to fill out a rental form. Please ask one of the staff.
At least one caregiver is asked to accompany per wheelchair.
Please return wheelchairs within the allotted time of two hours.
Please return wheelchairs by 4:30 p.m.
No advance reservation is accepted. Please note that wheelchairs are available for rent on a first-come, first-served basis.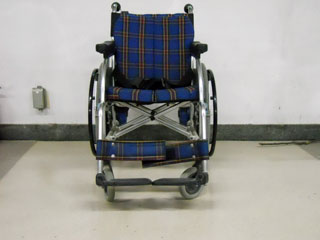 Power assist wheelchair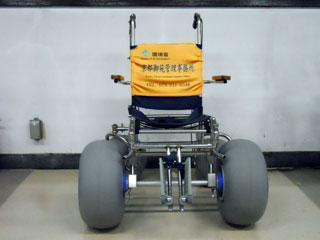 Wheelchair with balloon tires
Ear Symbol and Writing Board for Communication
The Kyoto Gyoen facilities below have "Ear Symbol" signs and writing boards for communication.
If you have any hearing concerns, please feel free to inform the staff and they will be happy to communicate in writing or by other means.
○Facilities: Kyoto Gyoen National Garden Office, Storage and Exhibition at the Site of the Kan-in no Miya Residence, Nakadachiuri Rest House, and Tominokoji Rest House